Novidades de Abril : Newsletter Fasano


De: Newsletter Fasano
Date: seg., 11 de abr. de 2022
Subject: Newsletter Fasano | Novidades de Abril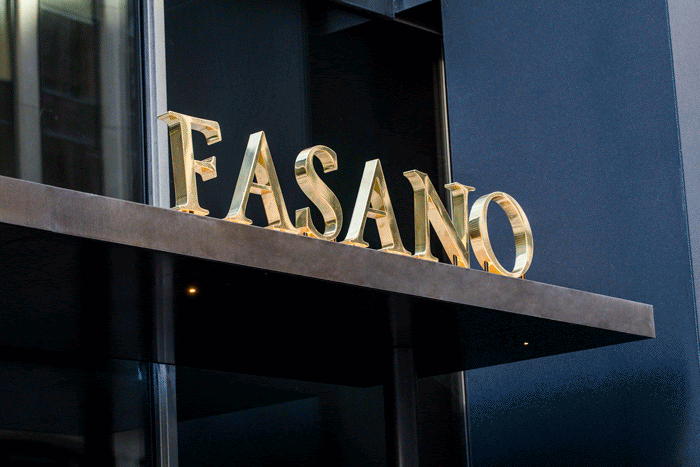 Fasano Restaurant New York
Localizado na 280 Park Avenue, o novo projeto de Gero Fasano, com interior assinado pelo arquiteto Isay Weinfeld, conta com três ambientes: uma osteria na entrada, uma sala de jantar no ambiente principal e, no segundo andar, uma sala Privè. O Chef italiano Nicola Fedeli é o responsável pelo menu repleto de pratos clássicos do norte da Itália.
Located at 280 Park Avenue, the new Gero's Fasano project, designed by Isay Weinfeld, boasts three sprawling dining spaces: an osteria, the main dining room, and a Privè room on the second floor. Chef Nicola Fedeli runs the menu of elevated northern Italian dishes.
Feriados em Abril
April holidays
Conheça os programas de hospedagem especiais para aproveitar os feriados do mês de abril, Páscoa e Tiradentes, celebrados nos dias 15 e 21, respectivamente, nos Hotéis Fasano no Brasil, Uruguai e Estados Unidos.
Discover the special programs to enjoy the holidays in April, Easter and Tiradentes, celebrated on the 15th and 21st, respectively, at Fasano properties in Brazil, Uruguay and United States.
Destinos & Experiências Locais
Destinations & Local Experiences
Os Hotéis Fasano em Angra dos Reis, Belo Horizonte, Salvador, Trancoso e Punta del Este contam com atividades e experiências desenvolvidas especialmente para a região onde estão inseridos, respeitando a cultura e as tradições locais. Desfrute dos programas voltados à aventura, gastronomia e wellness, durante a estada nestas propriedades.
Fasano hotels in Angra dos Reis, Belo Horizonte, Salvador, Trancoso, and Punta del Este offer activities and experiences specially developed for each destination, respecting its culture and local traditions. Enjoy the adventure, gastronomy, or wellness programs during your stay on these properties.
Villas Fasano em Trancoso
Fasano Villas in Trancoso
Além do Hotel Fasano, o Reserva Trancoso abriga ainda as Villas Fasano por Bernardes Arquitetura (792m²) e as Villas Gálvez & Márton (493m²). Todas as unidades têm acesso aos serviços e facilities do Hotel Fasano Trancoso, como room service, housekeeping e concierge.
In addition to Fasano Hotel, the complex Reserva Trancoso also has exclusive residences, as Villas Fasano by Bernardes Arquitetura (8,525ft²), and Villas Gálvez & Márton (5,306 ft²). All units have access to the services and facilities of Fasano Hotel, such as room service, housekeeping, and concierge.
Terapias faciais
Facial therapies

A Hidratação Luminosa é uma terapia que potencializa a hidratação natural da pele, proporcionando firmeza, luminosidade e nutrição por meio da combinação de produtos Biossance.

Luminous Hydration is a therapy that enhances the skin's natural hydration, offering firmness, luminosity, and nutrition through the combination of Biossance.

Explore nossos 9 destinos e 26 restaurantes.
Descubra nossa linha de produtos gastronômicos e itens para casa no Selezione Fasano.
Explore our 9 destinations and 26 restaurants.
Discover a collection of gastronomic products and household goods at Selezione Fasano